Nutrition
Oatmeal cakes with pears, seeds and nuts: the well-being recipe
by Uperform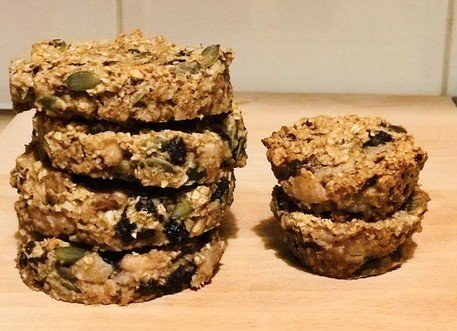 Oatmeal cakes with pears, seeds and nuts: a little wonder for breakfast, after a sports session or if you have a little peckish during the day.
You can also serve it with a good homemade apple/pear compote! I've made these oatmeal cakes many times before and they never look the same. It depends a bit on the fruits, nuts and seeds I have in stock. Yet they are still so healthy and tasty, full of nutrients, vitamins, fiber, antioxidants and more.
A breakfast or a snack as healthy as that, frankly, we don't do it. And it's 100% home-made! You can give them any shape you want, and combine them with just about any fruit: bananas, apples, blueberries, etc.
Preparation time: 15 minutes
Cooking time: between 30 and 45 minutes
Ingredients
"dry"
Rolled oats, 175g
Mixed nuts, 70 g
Raisins, 30g
Pumpkin seeds, 50 g
Cardamom powder, 3 tsp – or cinnamon if you prefer
Salt, a pinch (preferably pink Himalayan salt)
Baking soda, 1/4 tsp
"Wet"
Pear, 1 large ripe pear or 2 small ones
Vegetable milk: 15 cl
Plant-based yogurt: 1 tablespoon (I used unsweetened soy yogurt)
Coconut oil: 1 tablespoon
Honey: a large teaspoon
Procedure of the recipe
Preheat the oven to 180°C
Crush the nut mixture, either in a pestle or in a blender. Chop the grapes with a knife.
Mix all the dry ingredients together: oats, cardamom, pumpkin seeds, crushed walnut mixture, chopped raisins, salt and baking soda.
Then add the vegetable milk and yogurt, and mix. Set aside for the oats to absorb the milk. – If you prefer to use cow's milk and yogurt, I'm sure that works too.
Meanwhile, peel the pear and cut it into small dice.
If your coconut oil is solid, melt it in a pan. If it is liquid, no need.
When the oats have absorbed the milk well, add the pear, coconut oil and honey.
Mix everything together well. I like to taste the dough to see if it is to my liking. Maybe you want to add honey, or cardamom. Up to you!
For baking your cakes to have, you can make small separate portions and arrange them on a lightly greased baking sheet. Or why not in a pie or cake pan?
In your oven at 180°C, between 30 and 40 minutes.
Then leave to cool on a wire rack.
To keep them: I would say 2-3 days in a closed jar or tupperware.